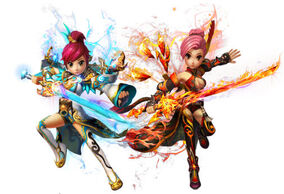 Swordsman
is an all-around melee character that has average stats. It lies in between Bladesman and Spearman in terms of both offensive and defensive effectiveness.
Sword is a mediocre class, not excelling at anything when facing monsters, and can either tank or hit well.
However, Sword fares well in Players versus Player content, as its abilities allow it to dodge skills and strip opponents of their defense, giving them an edge.
Pros:
Is able to tank or hit, depending on the party's needs.
Life Drainer and Chi Armor allow Sword to AFK well.
Incredibly good in Players versus Player due to Instant Reflex, Unification of Body and Soul and Inexplicable Vigor.
Cons:
Can't tank as well as the Bladesman, nor hit as hard as the Spearman.
| STR | VIT | DEX | INT | HEALTH | CHI | ATTACK | DEFENSE | ACCURACY | DODGE |
| --- | --- | --- | --- | --- | --- | --- | --- | --- | --- |
| 11 | 11 | 9 | 9 | 133 | 119 | 11 | 11 | 2 | 4 |
Abilities
Edit
| Icon | Name | Description | Base Effect | Point Effect | Requirement |
| --- | --- | --- | --- | --- | --- |
| | Sharpened Swords | Increases Maximum Attack Power | 0% | 1% per point | None |
| | Sword Drift | Increase Dodge Rate | | | None |
| | Flowing Blade | Increase Combo Attack Proc Rate | | | None |
| | Lethal Blow | Increase Critical Attack Rate | | | None |
| | Burning Wrath | Increase Duration of Rage Mode | | | None |
| | Chi Armor | Reduce Received Damage by 50% | | | 1st Promotion |
| | Life Drainer | Chance of Absorbing 50% of Successful Attack Damage to Health | | | 2nd Promotion |
| | Instant Reflex | Increase Skill Dodge Rate and Skill Damage | | | 3rd Promotion |
| | Auroral Sword | Increase Rage Attack Rate | | | 4th Promotion |
| | Tiger's Rage | Chance of Gaining 2% Rage with successful attack | | | Level 90 Quest |
| | Unification of Body and Soul | Chance to negate the target's defensive power to 50% when attacking | | | 5th Promotion |
| | Inexorable Vigor | Increase the proc and power of Unification of Body and Soul's ability | | | Ascension 1 |
| | Repetition Fury Assault | When the target evade a Skill attack, Applies an Extra damage (up to 3 times in a row, only for Ascension skills Level 5+) | | | Ascension 2 |
| | Life time | Upon receiving fatal damage, chance to survive with 10 HP | | | Ascension 3 |