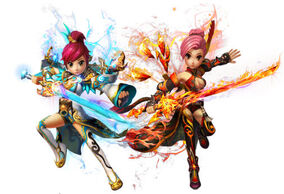 The Swordsman
is considered one of the most balanced of the scions of fate having good stats well round and the ability to dodge the opponent's attacks.
The Swordsman
is a good class to hunt monsters using its great evasion ability, in some cases
The Swordsman
can face
The Bladesman
in defensive power.
The Swordsman is also a good choice in PvP, for either low and high levels, due of its great evasion rate and its powerful crits as well.
| STR | VIT | DEX | INT | HEALTH | CHI | ATTACK | DEFENSE | ACCURACY | DODGE |
| --- | --- | --- | --- | --- | --- | --- | --- | --- | --- |
| 11 | 11 | 9 | 9 | 133 | 119 | 11 | 11 | 2 | 4 |
Abilities
Edit
| Icon | Name | Description | Requirement |
| --- | --- | --- | --- |
| | Sharpened Swords | Increase Maximum Attack Power | None |
| | Sword Drift | Increase Dodge Rate | None |
| | Flowing Blade | Increase Combo Attack Proc Rate | None |
| | Lethal Blow | Increase Critical Attack Rate | None |
| | Burning Wrath | Increase Duration of Rage Mode | None |
| | Chi Armor | Reduce Received Damage by 50% | 1st Promotion |
| | Life Drainer | Chance of Absorbing 50% of Successful Attack Damage to Health | 2nd Promotion |
| | Instant Reflex | Increase Skill Dodge Rate and Skill Damage | 3rd Promotion |
| | Auroral Sword | Increase Rage Attack Rate | 4th Promotion |
| | Tiger's Rage | Chance of Gaining 2% Rage with successful attack | Level 90 Quest |
| | Unification of Body and Soul | Chance to negate the target's defensive power to 50% when attacking | 5th Promotion |
| | Inexorable Vigor | Increase the proc and power of Unification of Body and Soul's ability | Ascension 1 |
| | Repetition Fury Assault | When the target evade a Skill attack, Applies an Extra damage (up to 3 times in a row, only for Ascension skills Level 5+) | Ascension 2 |
| | Life time | Upon receiving fatal damage, chance to survive with 10 HP | Ascension 3 |